History
Fraternization of Agios Ioannis (Saint John) of Pitsilia in the Limassol District with Agios Ioannis Kamenos in the Agios Vassilios District in Rethymnis Nomarchy.
Fraternization was proposed by Agios Ioannis Kamenos community of Crete in 1995 and was immediately accepted by Agios Ioannis of Pitsilia. Everything was arranged over the telephone. Mr. Michalis Tsarkatzis, president of the community and Mr. Emmanouil Saridakis, president of the "Salvaras" cultural association made everything possible.
The aforementioned representatives were driven by social and national reasons to help the fraternization of the two villages and verify the blood relation and the national identity that connect Greek-Cypriots with the Greeks in Crete. The fraternization memorandum will serve as an honour emblem that symbolizes the fight of both communities for peace in
Cyprus.
In July 1996 a committee of 13 people and the president of the community, went to Agios Ioannis in Crete. On the 27th of July, a day dedicated to Saint Panteleimon who is honoured in Agios Ioannis of Crete, the first part of the fraternization was completed with these goals:
Meeting of the inhabitants of both communities and cultivation of respect, friendship and cooperation between them.
Exchange of knowledge and information regarding agriculture, farming, tourism, local self-administration, cultural decentralization and other relevant sectors.
Mutual enlightenment regarding the historical and cultural tradition of the two communities and exchange of relevant information.
Scheduling and realizing of common programs regarding culture or production sectors.
Visiting both communities every two years and organizing a day of events in on e of the communities.
Reinforcement of the Cypriot fight for freedom and peace with protests, resolution of protests, enlightenment in Crete regarding the Cypriot problem, and other demonstrations.
It is noteworthy that the committee was warmly welcomed in Crete both at the Heraclion Airport as well as in Agios Ioannis. They enjoyed Cretan hospitality.
The effort for bringing the inhabitants of both communities closer to one another resulted to the beginning of friendships. A committee from Agios Ioannis of Crete with the nomarch Mr. Manolis Litinas visited Cyprus on the 14th of August in 1997 and the second part of the fraternization was continued on the 17 of August in Agios Ioannis of Pitsilia.
The connection between these two communities is constantly developing and more visits to both communities take place.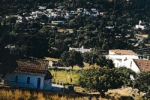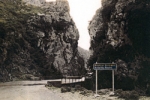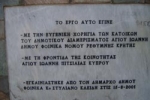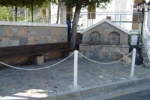 Memorandum
Today the 17th August 1997 at 10:30 a.m. at the Welfare Community Centre of Agios Ioannis in Pitsilia, in the District of Limassol in Cyprus, with the presence of the members of the community's authorities and the members of the administration board of the Expatriates' and Friends' Association, namely:
| | |
| --- | --- |
| 1) Michalis Tsarkatzis President | 1) Grigoris Malekkides President |
| 2) Michalis Ioakeim Vice-president | 2) Ntinos Lyras Vice-President |
| 3) Iakovos Laos Member | 3)Andreas Euthymiou Secretary |
| 4) Panayiotis Karavellas Member | 4) Ntinos Antoniou Treasurer |
| 5) Kyriacos Mauromatis | 5)Stephanos Malekkides B' Secretary |
| | 6) Savvas Palamas B' Treasurer |
| | 7) Christakis Tsaggaris Member |
| | 8) Michalakis Marcou Member |
| | 9) Antonis Papadopoulos Member |
The members of the Community Council and of the Cultural Association "SALVARAS" Administration Board from Agios Ioannis of Crete, Agios Vassilios district S. Rethymnis, were also present:
| | |
| --- | --- |
| 1) Manolis Zabetakis President | 1) Emmanouil Katsoulakis President |
| 2) Petros Zouberakis Vice-President | 2) Evaggelia Politi Vice-President |
| 3)Eustathios Yiakoumoyiannakis Member | 3) GaryfaliaMiyiaki G.Secretary |
| 4) Eustathios Damoulakis Member | 4) Athena Marinou Treasurer |
| 5) Nikolaos Daskalakis Member | 5) Emmanouil pothoulakis Member |
| 6) Ioannis Theodorakis Member | 6) Paulos Katsoulakis Member |
| 7) Euaggelos Katsoulakis Member | 7) Konstantinos Adelinakis Member |
The present fraternization of the names of two villages' memorandum is exchanged, thus sealing the fraternization decision of their inhabitants.
National and social reasons have led the representatives of the two villages to take this decision, reassuring their blood relations and their common national identity.
The fraternization memorandum will serve as an honour emblem that symbolizes the fight of both villages, Agios Ioannis of Pitsilia in Cyprus and Agios Ioannis of Agios Vassilios in Crete, for peace and freedom in Cyprus.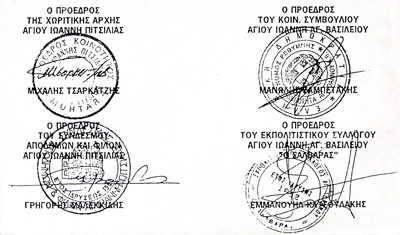 Agios Ioannis Pitsilias 17/8/97
Events
FRATERNIZATION CEREMONY
OF THE AGIOS IOANNIS OF PITSILIA IN LIMASSOL, CYPRUS
AND  AGIOS IOANNIS KAMENOY A. VASSILIOS IN THE RETHYMNI DISTRICT, CRETE
Greeting of the President of Agios Ioannis of Pitsilia, Mr. Michalakis Tsarkatzis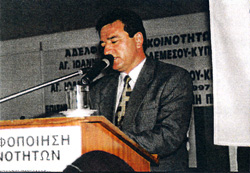 Beloved brothers,
Welcome to Agios Ioannis (Saint John) in Pitsilia; our beautiful, hospitable village that is covered in green on the slopes of mount Papoutsa.
On behalf of the community council and all the members of the community, I welcome you and warmly thank you for sharing with us this pleasure, for honoring with your presence this ceremony; the fraternization ceremony of Agios Ioannis Pitsilias and Agios Ioannis Kamenos of the Agios Vassilios district in Crete.
Cretan brothers,
It is with great happiness and emotion that we welcome you to our village. We offer you the flowers of our love and appreciation. Our beautiful vision is completed today, the noble decision that was initiated last year in Crete, the vision of fraternization of our villages that aims at developing relations of love and appreciation as well as cooperation in all sectors of our lives.
The fraternization helps refresh and consummate the endless blood relations that unite Greeks around the world and especially us Cypriots with you Cretans. This is not a mere figure of speech. It is what we deeply feel. It is our belief. Crete and Cyprus are possibly the two areas of Hellenism that are really close to each other. They feel and sympathize with each other.
Hearts in Crete and Cyprus communicate better. Thoughts and beliefs are almost the same. Not only because we share a common language, religion and national origin but also because we share the same way of living. Courtesy, honor and dignity, hospitality, love for humans, God and fatherland is a way of living, an everyday act in Crete and in Cyprus.
The fraternization of our communities does not create, but refresh and reinforce the brotherly and blood relations that exist between Crete and Cyprus for a long time and have united us in every critical moment of our national lives.
A terrible instance was the Turkish invasion in the summer of '74 in Cyprus. When the barbarians invaded our blue island they killed, raped, looted 40% of our unprotected land. When everyone was running to hide in panic, unable to be responsible, many Cretans defied orders and helped us fight against the Turks. Many of them never returned. They died honoring our soil. We on our knees honoring them back, and offering them the flowers of our endless love and gratitude.
Beloved brothers,
Cyprus has been dealing with a difficult situation for 23 years. However, we feel richer with you, more optimistic, more powerful to lift this burden because we feel that you are closer to us, more willing to join us and fight for our salvage. That is why we love, appreciate and thank you.
Concluding, I would like to welcome you again in our village and promise that we will do whatever is possible to make your stay as pleasant, filled with rich, beautiful memories as possible.
---
FRATERNIZATION CEREMONY
OF THE AGIOS IOANNIS OF PITSILIA IN LIMASSOL, CYPRUS
AND  AGIOS IOANNIS KAMENOY A. VASSILIOS IN THE RETHYMNI DISTRICT, CRETE
SUNDAY 17TH AUGUST 1997
Greeting-Speech of the President of Agios Ioannis-Kamenos, Mr. Emmanouil Zabetakis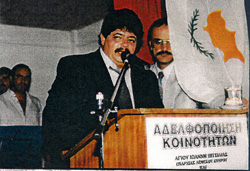 Beloved brothers from Agios Ioannis in Pitsilia
in the heroic island of Cyprus. We are nationally proud and moved to come here from Agios Ioannis Kamenos of Rethymno.
I bring you the warmest greetings of the inhabitants of my village to which you are inextricably connected by relations of love, friendship; relations that were born the day we decided to fraternize our two villages.
Our villages meet again today, despite the distance that separates us. We are emotionally moved to be here and experience the holy but bloody soil of Cyprus. Our visit is also a debt to all the dead heroes of Cyprus, all the missing persons. We obligated by respect, devotion towards your occupied villages and towns, the closed churches and the graves of Cypriot heroes.
We also obligated by the fighting spirit of the Cypriot people that has kept its Hellenic character although 40% of Cyprus is under Turkish occupation.
We admire you courage and your strength that has kept you standing after the Turkish invasion and has also made you show the mythical power of Hellenism for rebirth from its ashes.
God and justice can not ignore what happened in Cyprus. Salvation will come sooner or later and I assure you that our village, Agios Ioannis will stand next to you in all battles.
This is the message we bring from Crete today.
Brothers in Agios Ioannis in Pitsilia, allow me at this point to say a few words about our village Kameno Ag. Ioannis for those, who did not visit us last year.
It is a village in Saint Vassilios district in the district of Rethymni. Its rare beauty makes it very special. An endless forest, which mostly consists of green cypresses, reaches Mount Armos. From there one can see the Cretan sea.
Just across, one can see the mountains of Ksulis korfi, Viglaki and Kyrmianos, from where the Paksimadia islands are visible, the heroic castle built during the Frank domination, the islands of Gaudos, Gaudopoula and the great Libyan Sea.
These mountains are crossed over the canyon of Kotsifos. It is worth mentioning how the village got its name:
A modest and virgin shepherdess used to see a small flame coming out of a bush in the desert every night.
She tried to show it to other people, but they could not see it, so they set the bush on fire. However, the fire suddenly stopped. Only a small flame remained. They took it and discovered that it was a small wooden icon of Saint John the Theologian. One of its corners was burnt. They took it from there and built the village that has his name. The icon is still kept as a treasure.
Greek-Cypriot brothers, today is a historical day for us, not only because we are here in Cyprus but also because we help the continuance of this beautiful friendship that was initiated last year with the fraternization ceremony in Agios Ioannis Kamenos.
We thank you for your love and we want to assure you that our village-Rethymno-Crete will always be by your side helping you in your fair fight for freedom and peace.
It is really good to be here Cypriot brothers.